A unique, individual and a sophisticated vision of ultra-luxury lifestyle. Our Timeless collection presents a contemporary and feminine vision for the Fall and Winter 2021 season.
Timeless collection
Rubeus introduces our timeless, sophisticated and forever playful capsule in refined, luxurious clothing and bags for the Fall and Winter 2021 collection. Showcasing softly structured and inventive tuxedo silhouettes in chic, stylish velvets and satins alongside oversized blousons combined with lavish Jacquard and bold animal prints add fun and panache to any time of the day.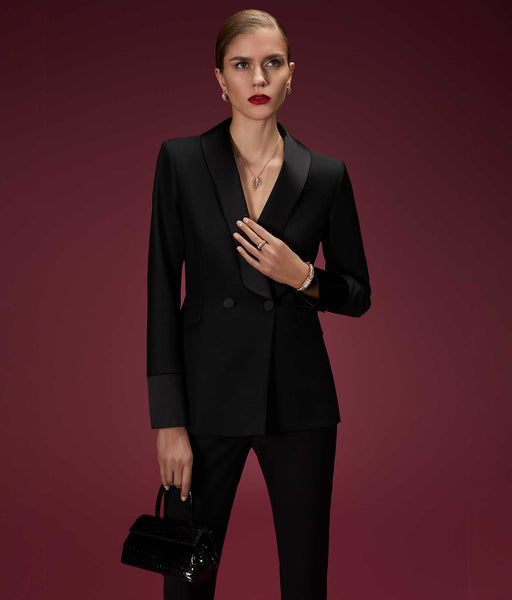 Timeless classic tuxedo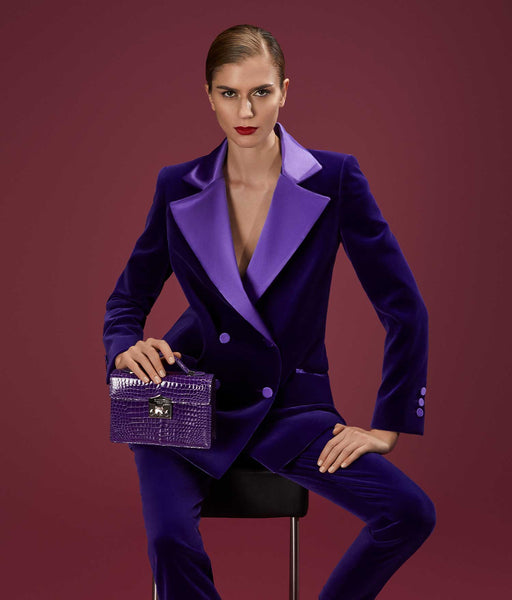 Fall - Winter 2021/2022 Collection
Rubeus Milano - standing out from the crowd is at the heart of all of Rubeus's creations - it's in our DNA.
Rubeus Blousons, jackets and skirts
Fabric: Tessiture Bevilacqua Venezia
Faultless tailoring in daring and exclusive fabrics bring to life our oversized blousons and skirts shown here in this seasons must have gentle lavender and jacquard. Adding a little playfulness whether dressed up or down - the choice is yours
Rubeus's oversized jacket explores new heights in chic style and playfulness for FW21. Shown here in our exclusive blue lame Lampas flora brocade from the looms of Luigi Bevilacqua, the ultimate in Italian craftsmanship is paired with Rubeus' flair, a match made in heaven.
A midnight rendezvous, the touch of luxury on your skin
Sensuous silk
A beautifully simple silhouette in silk that flows naturally with your graceful charm. Sensuous silk in lilac highlighted with a soft ivory detailing, our adorable pyjama suits are fun for any time of the day or night.